Three business tools I couldn't live without
When I needed to buy a new vacuum, I spent hours trawling Amazon reviews, comparing the specs on different models, as well as drawing up a list of what features I most valued such as 'lovely to look at' and 'able to withstand a two-year-old's affections'. I meticulously research because I know that time spent finding the right tools means time and effort saved in the long run.
I apply the same diligence to my business tools, and in the hopes of saving you many hours of pointless frustration, I'm sharing the top three tools that have been the most valuable in managing my business.
Rachel DuBois
Strengthsfinder
If you're like most people, you worry about fixing what you're not good at.
You ignore how good you were at English and fret about the mediocre result in maths. You sign up for accounting classes you dread rather than develop your natural ability to meet people.
Strengthsfinder has the exact opposite philosophy. It is a tool that identifies your top 5 'strengths', your natural abilities such as empathy or strategic thinking or being responsible.
It's an online survey developed by Gallup after they surveyed over 2 million people (they've now surveyed over 10 million) to understand what makes people successful and satisfied in their work.
What they found is that, when you focus on what you're naturally good at, you are happier at work and far more successful.
I've used Strengthsfinder for over 12 years with staff, colleagues, friends and even -- on one memorable occasion involving a long roadtrip with my grandmother, uncle and mother, -- my family.
I particularly recommend it if you aren't sure about your career path or need a little morale booster. I've used it for working with volunteers whose skills I didn't know but whom I needed to get the most out of in the shortest amount of time. We were all amazed how helpful the results were in identifying which tasks were right for which volunteer.
Just this past week, two new directors on our board took Strengthsfinder so that I knew how to work with them best. I can't recommend this tool highly enough if you're willing to put some time into analysing the results and implementing some of the actions that your report recommends.
Freshbooks
Freshbooks
is a free invoicing and time tracking software (free for one-person businesses and a limited number of projects -- monthly fees if you need more than that).
The reason I use it is I hate having to keep track of my time when I'm working because I don't want to stop and start. However, particularly for my web design work, I need to monitor my time down to the minute.
Freshbooks makes this easy by having a pop-up window with a timer you can stop and start.
They also have an app for the iPhone that you can use on the go -- including doing handy things like keeping better track of your expenses by letting you take a photo of an expense receipt and automatically uploading it for you.
They offer accounting but I haven't used this service.
Freshbooks has unbelievably helpful and friendly customer service, even for customers like me who don't pay them at all.
You Need a Budget (YNAB)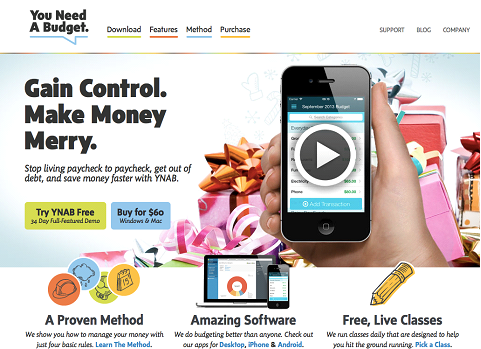 I admit it -- I've not always been the best at managing money.
I've tried many financial software and money management programmes over the years only to find myself yelling at my computer in frustration when something didn't work the way I needed it to.
So I needed something easy to use, visually appealing, that works with a Mac and UK currency. YNAB does all of this.
YNAB is a financial management software like Microsoft Money or Quicken but so much better. It's an entire approach to money which requires you to budget your spending. Now before you run away from the idea, give it a chance because YNAB isn't like your usual budgeting. It's flexible, easy to do and most of all, effective.
Whilst YNAB is designed for personal use, if your business isn't too complex, then it works a treat for business finances.
I've loved their free webinars and emails and have completely changed how I approach money as a result. If you find finances scary but know you need to deal with them, check this one out.
Discount: Get $6 (£4) off if you use my referral link.
Trying out contacts software
So there you have it, my top 3 tools.
I'm trying out a few others as I write -- Contactually for managing contacts and learning how to follow up with them as I'm still new to the area and so meeting a lot of people I'd like to keep track of. They do have a free programme for 1 user, but in my case, there are two of us so we'll pay £15/month if we stick with it.
I hope these tools help you and if so, I'd love to know how you get on. Have you any essential tools you'd recommend? Please add a comment below.
About Rachel DuBois
Rachel DuBois is a Director of Hostel Hub, a social enterprise that makes money for communities by helping them start up luxury hostels. She also runs her web design business, Gillywood Design, working with small businesses and communities in Perthshire.